Jordan resided in Bonavista his whole life, Bonnie grew up in Newman's Cove a small community ten Minutes outside of Bonavista. After graduating they both found their way from home perusing their dreams elsewhere, as the majority of young people in outport Newfoundland do. Bonnie earned an Earth Science degree from Memorial University and travel around Canada. Jordan became a Journeyman electrician and also travelled to various parts of Canada for work. Something always drew them back home, to that lifestyle, and after having their first child they finally made the leap and moved back to Bonavista. After having their second child they started Bonavista Adventure Tours.
The Company is more than just a business to them; it is a lifestyle, which showcases who they are as Newfoundlanders and the thing that they took for granted growing up l Newfoundland.
Bonnie and Jordan want to give you the authentic experience of being a Newfoundlander, so book your tour and hang out with two Newfoundlanders who are very enthusiastic about showing and teaching the ways of life in Newfoundland.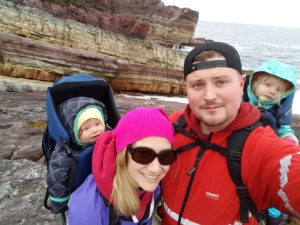 Bonnie & Jordan Stagg
Adventure Guides / Owners